Why Are People Choosing Us?
Our corporate mission is to provide superior service in our industry while consistently exceeding our customer's quality and delivery expectations; through our strong commitment to continuous quality improvement and investments.
Self-owned with a total of 5,000 square feet, our factory has all the facilities for our services and we are proud to be Malaysia's FIRST factory that provide these services of stainless steel pickling and polishing.
We also releases information relating to latest news, activities, research reports and studies of potential interest to the public. Stay tuned for our latest current and archived news releases, newsletters, reports and other communications materials.
Our Services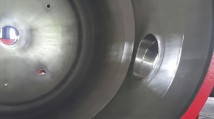 Mechanical polishing covers grinding, buffing, and polishing – all processes for improving ...
What Our Clients Say
We have achieved excellent results using products and services from the Miracles Technology range. The products were used on all our canopies, units and tables.
– Mr Chua, LSST (M) Sdn Bhd
It is with pleasure that I recommend Miracle Technology for polishing my stainless steel. Yip had provided us with excellent advise in terms of our needs for the commercial kitchen and cafe presentation.
– Wayne Lee, Café Merloin